[Double-sided Diamond Disc]
99000-L: The Chant - Stomp: Jelly-Roll Morton's Red Hot Peppers
99000-R: Fireworks - Fox Trot: Louis Armstrong and his Hot Five




Fully-featured Diamond Disc for Edison Diamond Disc Phongoraphs, featuring two of the hottest bands of the 1920's - never issued on diamond disc before.
Very limited quantity of three double-sided copies available.





[4-MINUTE]


NB-5804: Everbody Stomp - Fox Trot



Recorded in October 1925 by Bud Lincoln and his Orchestra, this is probably the hottest unissued Edison recording that never made in into the official catalog. Technically it is quite superb and thus remains a mystery what did lead to the decision not to issue it. A wonderful dance number and finally available for your Edison phonograph!





[4-MINUTE]


NB-5704: Button up your Overcoat - Fox Trot



Recorded on 18 January 1929, the very last year of the Edison recording studio had begun. And what a year it was. Amongst these last recordings, the California Ramblers made a few highly-sought after and musically outstanding dance performances. Such as this snappy version of this popular title, originally released as Blue Amberol 5704, dubbed from diamond disc side 52513-R. As our other 5700's re-issues, this take is also sourced directly from the original diamond disc.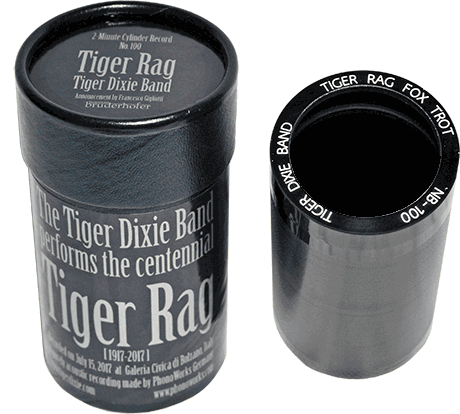 [2-MINUTE]
NB-100: Tiger Rag - Fox Trot


The Tiger Dixie Band celebrates one century of recorded Jazz. Along with the 140th jubilee of the phonograph, it is furthermore the 100th birthday of the first recording of the famous Tiger Rag, originally performed by the Original Dixieland Jazz Band. This purely acoustic live recording was made at the Archeophonica Phonograph Exhibition in beautiful Bolzano, Italy on July 15, 2017. Six members of the Tiger Dixie Band performed the Tiger Rag direct to wax. Featuring Paolo Trettel (tpt), Stefano Menato (cl), Luigi Grata - (tbn), Andrea Boschetti - (bjo), Giorgio Beberi - (bsax), and Claudio Ischia - (drums)






[4-MINUTE]


NB-5656: Doin' the Raccoon - Fox Trot



A late 1928 Edison recording by Billy Murray and the 7 Blue Babies, originally issued on Diamond Disc and as Blue Amberol 5656. Beautiful uplifting and highly sought-after jazz number with vocals by the famous Billy Murray! This is completely new manufactured and highly unscrupulous cylinder record, that is so smooth so it can easily outperform the surface noise of the original Edison Blue Amberol.


[4-MINUTE]
NB-5803: That's her now - Fox Trot


The latest title of our 5800's vault series. A superbly hot number by the 7 Blue Babies with vocals by Ermine Calloway. This original 1929 Edison recording is taken directly from the diamond disc, making it the flip-side of Give your little Baby lot's of Lovin' and en equally hot number, finally out on cylinder.


[4-MINUTE]
NB-5714: Honey - Fox Trot


Continuing our 5700's series, this rare selection by the Golden Gate Orchestra (California Ramblers) was taken directly from the original diamond disc. In the cylinder catalog of 1929 it was listed just two numbers before Kansas City Kitty, thus being just five titles away before the long era of Edison cylinder records did come to a final end.
This electric studio recording has a neat tube amplifier distortion, which is very characteristic for 1920s recording technology. Be sure to use a fully rebuilt and heavier reproducer (like a Diamond B, C, etc.) for maximum volume and best tracking.


[4-MINUTE]
NB-691: Some of these Days


Sophie Tucker's legendary first version from 1910, the song that made her famous and would stay with her throughout her long singing career.

This highly sought-after cylinder version was only issued on wax Amberol cylinder, which makes it more than hard to find a decent copy nowadays. But even in the lucky case, it is certainly no recommended to play a wax Amberol acoustically as these are most fragile cylinder records ever made.
Even with this cylinder being of black color, you can now feel free to enjoy it on your phonograph, regardless of what 4-minute reproducer it is equipped with.



[2-MINUTE]
NB-613: Washington Post March


This reproduction cylinder resembles an 1893 channel rim North American cylinder record #613, featuring Sousa's famous Washington Post March. Originating from a directly recorded cylinder, the quality is magnificent. And of course, although through its appearance, this record is not made from wax but from a modern and virtually indestructible material.

It can be played back with an Edison Standard Speaker or Automatic, Model B, C, etc. up to a heavy Diamond B reproducer when used with 2-minute gearing. It is not only a great display on very early phonographs like an Edison Class M but also 100% safe against damages like cracks or breakage at normal handling.

The volume has been carefully adjusted to play well especially with earlier machines.
As with other recordings from the brown wax era, your phonograph has to be adjusted to a lower playback speed of ca. 136.5 rpm to match the correct pitch. Comes in early style stamped cardboard box.



[4-MINUTE]
NB-5801: Mad Mama's Blues


Being a true blues song, sung by an African-American vocalist, it makes this Edison recording even more unusual, now issued on cylinder for the very first time and continueing the Vault Series after Singin' in the Rain.
If you ever wondered about the roots of violence in today's popular music, then this one will serve your interest quite well. Josie Miles sings the most violent lyrics that were ever heard on an Edison machine. It exemplifies the development from the roots of critical prototype lyrics towards modern music. One can only imagine how shocking this must have been to a 1924 audience, nowadays it remains something so uncommon, that it is a perfect piece for cylinder phonograph demonstration as well an interesting piece for further discussion. Miles is accompanied by the Kansas City Five with a superb cornet intermission.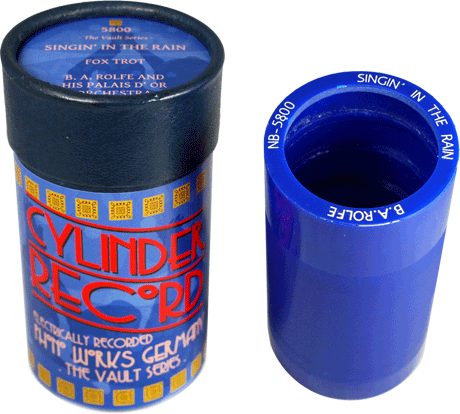 [4-MINUTE]
NB-5800: Singin' in the Rain - Fox Trot


This 4-minute cylinder record features one of todays most well-known songs that was ever recorded on Edison: Singin' in the Rain - well performed by B. A. Rolfe and his Orchestra in a nice fox trot arrangement, including weather sound effects! This 1929 recording was taken directly from an Edison Diamond Disc test pressing.
There aren't many songs of the Edison era around, to which even current generations would be able to sing along. This is certainly the one if you are looking for a nice demonstration record to which people of our days still can connect to. It plays best by the use of an Edison Diamond series reproducer and large horn.




[4-MINUTE]
NB-1004: Stomp off, let's go! - Fox Trot


This outstanding number by Erskine Tate's Vendome Orchestra was originally made in 1926 for Oriole and features the Jazz legend Louis Armstrong himself. This is the style music the Edison Phonograph Company had missed in most cases. Being recorded shortly after the beginning of the Charleston era, it truly redefines the meaning hot jazz.




[4-MINUTE]
NB-5713: My Sin - Fox Trot


Our second 5700's series re-issue by The Berlin Phonograph Works. This recording by the Golden Gate Orchestra was recorded at the Edison Studio on the 2nd of May 1929. Only six more titles on cylinder record would be ever issued by the Edison Phonograph Company before shutting down its business. A beautifully charming fox trot with a neat hot solo in the middle.







[2-MINUTE]




NB-DRP4: Edison Reklame-Record (German Edison Advertising Record)





Edison Reklame Record 1905 (German Edison... von amberol
Reproduction of the original Edison Advertising Record for the German market. This is not a remake but a transfer from the original recording from November 1905.

Comes in a maroon colored box with special label and complete transcription of the spoken content.




[2-MINUTE]
BERLIN-10575: The Skeleton Rag -
The spooky cylinder record that glows in the dark!


The new Spooky Self-Illuminating Cylinder Record that glows in the dark! Simply use bright electric light (e.g. 60W lamp) or direct sunlight to expose the cylinder for about 30 seconds, then enjoy the spooky greenish color in a real dark environment. Different shades and textures can be created by partial light exposure. Works also great with UV lamps. In addition to this amazing color, this cylinder features The Skeleton Rag, performed by the Premier Quartet in true ragtime style - a true Halloween selection and, according to my references, also the very last 2-Minute cylinder regularly issued by the Edison Phonograph Company. Of course, this cylinder can be played back with practically any 2-minute cylinder phonograph and is, like the others, also virtually indesctructible.






[4-MINUTE]
BERLIN-5716: Kansas City Kitty - Fox Trot



The new Bruderola cylinder record with one of the most sought-after Blue Amberol titles: Kansas City Kitty, a jazzy fox trot by Billy Murray and his Melody Men, recorded on March 28th, 1929 and issued on Edison Blue Amberol #5716 as one of the very last cylinders of a first generation manufacturer. Like the Edison record, this new cylinder is blue in color and is recorded electrically to achieve an outstanding quality in sound and volume. Its low surface noise does outperform most of the Blue Amberols which are found today. This record can be played with practically any 4-minute cylinder phonograph, including the Amberola with the heavy Diamond reproducers. Plays especially superb with a large horn, you will love it!





[2-MINUTE]
BERLIN-84006: Gli Ugonotti - Qui sotto il ciel


Written by Giacomo Meyerbeer, this recording was the last of the three known issued cylinder titles which were all recorded at the very same day. According to the current research, this particular recordings seems to be a specially abridged version, just arranged for Caruso himself to sing it within the limited recording time of two minutes. Comes with certificate slip which also features the actual lyrics. Wine red cardboard box with special Caruso label in English and German. Please note: The new style cylinder may look slightly different to the photo above.





[2-MINUTE]
BERLIN-84003: Tu non mi vuoi pi├╣ bene


This recording was the first of the three known issued cylinder titles, although they were all recorded at released at the same time. Unlike the other two songs, this particular one is quite different as it is not taken from an opera but was written as single love song, known as a stornello. You will also notice that the announcer leaves a pause between until the musical performance starts. The other recordings have an overlapped announcement that would function as a watermark against early piracy. The association to the Anglo-Italian Commerce Company had to be removed then with a few seconds of the music too, something nobody wanted to do, of course.
Comes with certificate slip which also features the lyrics of this greatly performed song. Wine red cardboard box with special Caruso label in English and German. Please note: The new style cylinder may look slightly different to the photo above.




[2-MINUTE]
BERLIN-84004: Tosca - E lucevan le stelle


This outstanding aria was composed by Giacomo Puccini. The recording made on cylinder in 1903 is one of Caruso's most sought-after selections. This cylinder record will provide you the marvelous ability of listening to a true Caruso cylinder recording from 1903 on your phonograph! It features an electric transfer made directly from the original wax cylinder, complete with it's original announcement by the Anglo-Italian Commerce Company. Comes with certificate slip which also features the lyrics of this stirring aria. Wine red cardboard box with special Caruso label in English and German.





Bundle prices incl. box